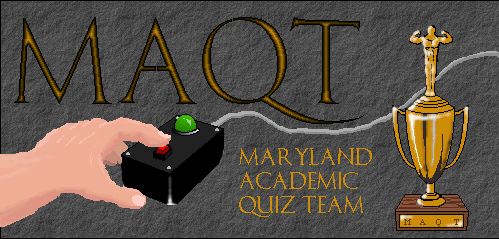 Current Members
Josh Allen

Year in School: Senior
Major: Jewish Studies
Office: Treasurer
Josh is a highly talented player who knows a little of everything. He has proven to be a vital factor in MAQT Public Relations (something desperately needed by a team that has graduated Vishnu and Matt), writing an article in the Diamondback and securing newspaper coverage for our Faculty/Student Challenge. The C team at ACF Nationals was Joshstrong for much of the tournament until a few teammates came to his aid. (Add something about hardcore mocking and busting).
Michael Chau

Year in School: Senior
Major: Biomedical Engineering
Mike is a survivor of Wheaton High School in Montgomery County. Mike has consistently put in a good performance at past tournaments, and has recently demonstrated his basketball skills at summer practices.
Kanishka Gangopadhyay

Year in School: Junior
Major: English/Philosophy
The next in the line of Maryland's Bengalis, Kanish is the team's alcohol and illicit substances expert (see what you learn from living in Ellicott?), and once offered to take Dave Hamilton to a rave. He's basically a generalist as far as academic subjects go, a force to be reckoned with on trash, and one of Maryland's long line of trash talkers. Can be heard bitching about how there are no questions on Durga (a consort of Shiva), and about how he went to sleep at 4 am the morning of any tournament.
David Hamilton

Year in School: ?
Major: Classics?
Alias: Title Boy.
The intrepid author of this web page, Dave was also president of the team for the 97-98 season and editor of the last two Terrapin Invitational Tournaments. When asked what motivates him to study for ACF, Dave replied, "Spite." An example: after Matt answered a tossup on Roman history at ACF Nationals, Dave wrote down in his notebook, "Tacitus -- learn early clues, bust Colvin." Always up for a game of Balderdash, Dave is also a compulsive collector of useless crap and disturbed fan of Daria.
Shaun Hayeslip

Year in School: Senior
Major: Chemical Engineering
Office: President
Alias: Pissboy and variants
Shaun has an excellent grasp of both science and classical music. Treasurer for 1997-8, he got the team out of debt. He can often be seen in his worn McDonogh High School cap playing spades, or bridge in the Anne Arundel 2nd Floor lounge, usually accompanied by his roommate Scott. Scott is a big fan of Stabbing Westward and music of that ilk, much to Shaun's dismay. Shaun will be studying in London this year.
Christine Moritz

Year in School: Grad
Major: English
John Nam

Year in School:
Major: English
One of the three founders of ACF (along with Carol Guthrie and Ramesh), John was playing quiz bowl for Maryland when Shaun Hayeslip was 6 years old. He has some unfortunate habits, among them a gambling problem and an unequalled propensity for trash talk. In fact, John boasts that it was his trash talk that led Ramesh to study and become good. Sometimes this trash talk is crude, as in this example from a euchre game at Michelle's place: "You suck a lot, Colvin. I'm going to make you my woman." Sometimes it is foolhardy, as in this example from halftime when John was up 15 points against an unnamed team at Maryland Masters: "Ha! See? We're going to treat you like the bitch-dogs that you are!" The other team proceeded to answer 9 of the last 10 tossups.
Julie Singer

Year in School: Senior
Major: French/Italian
Former It's Academic champion Julie burst onto the the MAQT scene in 1996-97, registering some of the best performances ever by a freshman in leading two Junior Bird teams to championships. A great asset to the team, she is also a hardworking administrator and is president this year.
Maureen "Moe" Smith

Year in School: Junior
Major: English
Office: Vice-president
Mark Tervakoski

Year in School: Senior
Major: Government and Politics/Anthropology
Mark is known as Finland Boy, because his father owns the Memories of Finland store on Route One in College Park. He already is a force among Trash players in the MAQT, and his general knowledge as well as history skills have earned him high marks in tournaments. Look for him on the rugby field when he is not playing quiz bowl.
---
If you're a former member of the Maryland Academic Quiz Team, and would like to be featured on this page or would like to correct any errors or add information, please contact David Hamilton.
Matt Baker

Now a grad student at Berkeley, Baker was Swisdak's right-hand man and was the team's president. An excellent player in the humanities, Baker has a hard-working approach to the game that he shared with younger Maryland players. Don't let the entry on Bakerism in the lexicon fool you; Baker was (and still is) a great ACF player.

Josh Bates

Josh was one of our star freshman last year, having come from Florida without playing quiz bowl in high school. Unfortunately, he evidently failed both semesters he was here and is now back in Florida doing something unknown.

Zeke Berdichevsky

Zeke is the team's best basketball player, and can often be seen at the Terrapin Taco House on Route 1. He aspires to David Hamilton's title boy crown -- though, unlike Dave, he actually has knowledge of the contents of works too. Zeke is distinguished by is use of the word "dude," as in, "Dude! The Kalevala is hardcore!" Zeke has improved greatly recently, and is a valuable addition to any team that he's on.

Annie "Artemis" Bush

The Queen of the Wilde Maus, and a good table tennis player to boot, she amazed all of us by telling us that her parents are building a geodesic dome! Annie showed up at this year's Terrapin, and graduated in the spring.

Michelle Cantave

Sometime resident of the Cayman Islands, and official hostess of the MAQT, Michelle is known for her satirical cake-baking skills. Although she has graduated with a degree in psychology, no one is quite sure what her plans are. One suspects that Michelle is really in this club to derive amusement from seeing 20-year-old guys acting like 12-year-olds.

Matt Colvin

The quondam Scourge of a.c.c-b, Matt did more to promote Maryland's bad-boy image through his infamous Chicago "pajama" post than all past-and-present MAQT'ers combined. His negging abilities are admired circuit-wide, as countless total points have been destroyed through Colvination. He introduced the MAQT to euchre and once remarked that he had one Bach CD for every week of the year, not even counting the Best of Boccherini set. Matt is attending graduate school at Cornell, and has recently made his triumphal return to both the circuit, and, unfortunately for many, the mailing list.

Jason Dettelbach

Master Macdaddy of all questions about wrestling and Baywatch, Jason is the inseparable tormentor of Khon, uttering such lines as, "They're not going to stop [wrestling] just 'cuz somebody dies, Khon." He plays a fierce euchre game, and talks a lot of trash. Having graduated with a business, and, somehow, a math degree, he is currently looking for a job.

Vice-president and former head statmeister of the team, Adam was a excellent player specializing in history and art. Also a good administrator and recruiter, he ran freshmen practice, and even found the time to coach his high school team. He is currently in the job market, having found that law school at UNC wasn't right for him.

Arthur Fleming

President for the '97 season, Arthur just showed up at practice freshman year, never having played quiz bowl before, and was captain of the A team by his junior year. He has complete knowledge of James Bond and Star Trek, and frequently drove on long trips, including the 1995 UNC tournament, where he was rear-ended by Matt. Don't ask him about Dr. Wolfe's Yevshenko tossup in the faculty-student challenge. Also, don't ask him about the Baltimore Orioles.

Goodman is indeed the uncontested Official Biscuit of Academic Competition. The team's history maestro, Dave introduced Prince Rupert of the Rhine (NOT Dudley Do-Right) to the quizbowl canon, in addition to constantly informing us of his hypothetical "Veg-O-Matic" tossup. Lament: "Uggh. That's so wrong!" Dave wears gold chains and a baseball cap, which he rotates on his head when the going gets tough. Not often seen during his last semester, he is now heading to Michigan for graduate work, where he presumably attend whichever tournaments are within walking distance.

Rajarshi (RG) Gupta

RG joined the team after discovering our web page. Although he only played for the MAQT for two years, he showed marked improvement, although sometimes he had some very inexplicable buzzes. RG is at Berkeley pursuing a graduate degree.

Rob Hershey

Rob is now in the real world, and shares an apartment with Willie close to campus. A very widely-travelled man, he is notorious for failing to answer questions on places he has visited (such an action being a Hersheyism. Rob was on a number of tournament-winning teams, the most recent being the 1996 tournament-winning B team at GW, and has amazingly attended the Princeton tournament eight years in a row.

Vishnu Jejjala

Now a grad student at Illinois, the 96 ACF Nationals fourth-place team. Vishnu was team president for the 95-96 season. He played on the 6th place team in the 95 ACF NCT, and on the 4th place Maryland B team in the 94 NCT. He is notable for being the original "rabid ACFer", engaging in flame wars with Pat Matthews from the very inception of alt.college.college-bowl. He is also famous for being a Spinozistic naturalist, making long .plan files, purchasing obscenely priced opera CDs (part of being a cultural elitist), and gambling compulsively (especially with John Nam). Most amusing/embarrassing anecdote: While the team was hanging around the parking lot of a hotel in Atlanta in 1995, a gust of wind came up and caught Vishnu's glasses like a pair of sails, blowing them across a 6-lane highway and into a gutter. Vishnu's words on the moment: "Boy, that really sucks."

Ramesh Kannappan

Almost certainly Maryland's all-time greatest player, Ramesh was one of the founders of ACF, and has given self-sacrificingly of his time for many years now. At Penn Bowl in 1995, Ramesh captained the Maryland C team on a Cinderella run that led all the way to the finals, with wins over BYU and Harvard before being stopped by Chicago.

Ram "Shorty" Kannappan

Ramesh's younger brother. A junior in high school now, Shorty played on Maryland C with Arthur Fleming and Matt Colvin during the 1993-4 season. Along with Misha Bernard, they formed a team called Noodle Noggin that consisted of Misha, two freshmen, and an 8th grader. When they were about to play CBI-and-ACF champion Chicago A, John Nam and Marc Swisdak opted not to watch the match, saying that they "didn't want to see the slaughter". But Noodle Noggin won, partly thanks to Shorty's tossup on Batman and a lot of -5s by Chicago. Ram is now a freshman at Ut Austin.

Willie Keller

Graduating from the University of Wisconsin in 1995, Willie's email address makes it obvious that his assimilation into the MAQT is almost complete. A Packers fan, he lived in a church for two and a half years, and was a reactor operator at the UW research reactor for three years, which is definitely one of the oddest sets of home and employment in the quizbowl community. Willie adds much-needed physics/chem/current events knowledge to the A team, but will unfortunately not be able to play during the fall semester.

Ken Lasala

Back in the Maryland area after attending grad school in Chicago, Ken was the history maven on the Starsinic-led Maryland team of 1994-5. Unstoppable on Civil War questions, he was vice-president of the team and worked as an aide for a Republican U.S. Senator. He is also famous for driving a tiny Dodge Omni with the turning circle of a Mack Truck.

Khon Lien

Khon is famous for his mysterious utterances, and for running his Khon Hoc tournaments. He often drove large amounts of people to tournaments in his van, and was treasurer for the 1996-7 season. Currently residing in a house with Michelle and other friends, Khon is planning to attend dental school as soon as possible.

Sherman Lo

Now a grad student at Stanford, Sherman came from the same high school that produced history maven Ken LaSala, so it's not surprising that both of them are U.S. History maestros. Sherman played on the 1993 ACF runner-up team, and captained the Stanford A team which won the 1997 ACF West Coast Regionals.

Jesse Molesworth

A member of the B team that took 4th in 1994, and of the A teams that placed 6th and 3rd in 95 and 97, Jesse spent the 1995-6 season in England. Jesse was a physics major before reducing to English, a fact he notes with glee upon getting science tossups. He is currently pursuing a PhD in English from Stanford, and was on the team which won the '98 NAQT Nationals.

Jeff Newman

Now a grad student at Berkeley along with Matt Baker, Jeff blew Matt Colvin away with his fluid translations in Latin class. Since Jeff's parents live in North Carolina, we were able to stay at their house on a few trips to Wesselmania. Jeff has a knowledge of esoterica and current events that made him an excellent complement to Matt Baker and Marc Swisdak.

Josyula "JR" Rao

JR received his undergrad degree in Marine Engineering in India, where he avidly played a game similar to quiz bowl. He has a good base of science knowledge, but is still having a few problems with the play of the game. He is now pursuing a degree is Mechanical Engineering, but we haven't heard from him in about two years.

Bill Schmeh

We thought Bill was going to be a key to our future when he nailed several history toss-ups off Goodman at his first practice. A connoisseur of country music and Jeff Foxworthy, he's as reckless on the road -- getting a speeding ticket in West Virginia for doing 95 in a 55 MPH zone -- as he is with the buzzer. Unfortunately, Bill has followed his protege Dave too closely, and has not been seen at a practice for an entire semester. He is presumably in his room playing Freecell.

Li Sparks

Though she never played, Li was the heart and soul of the Maryland team during the days of John Nam and Ramesh. Tirelessly organizing, dealing with the stingy SGA, and reading in practice, she was a life-saver to the always-disorganized MAQT. Recently, she came to the defense of the team when the name of our college tournament was criticized.

Michael Starsinic

Mike captained the team for the 1994-5 season. As president of the club, he ran a well-oiled machine, sending out practice messages, coordinating driving for tournaments, running the high school tournaments as well as they have ever been run. Famous for torturing his car passengers with Debbie Gibson music, and for his encyclopedic knowledge of 80s tunes, Mike led the team (save Ramesh) in scoring. He also played on the 1994 ACF Nationals runner-up team. After two years as co-founder and imperator of the Ohio State team while in grad school, Mike has returned to the area and is threatening to unretire.

Gaius Stern

Gaius played on the Maryland teams of old with Ramesh and John Nam. As you may have deduced from his Latinate first name, he was the Classics maestro on that team. He is now a grad student at Berkeley, where in addition to playing on the Berkeley ACF team, he and Matt Baker are the Consuls of the Berkeley club. Gaius also puts out the West Coast ACF Newsletter, and has been TD of the last 3 ACF West Coast Regionals.

Marc Swisdak

Now a grad student at Colorado, "Swiz" captained the team for much of his time as an undergraduate at Maryland. In high school, his Roosevelt team met John Sheahan's St. Anselm's team on the It's Academic show, and Roosevelt prevailed by a slim margin. Swisdak's Maryland teams finished second to Chicago at ACF Nationals both years it was held at College Park (93 and 94). When asked by Matt Colvin why he bothered to memorize phone number area codes for major U.S. cities, Swiz replied, "Because it comes up." He is the author of the ACF Question-Writing Guide. He was also part of Crocodile Cal's Outback Buzzer Shack, composed of him, Dave Goodman, Dave Hamilton, and Jesse Molesworth, which won PE IV.

Dave Vacca

Dave Vacca was probably the only member of the MAQT who could answer a tossup with "Stainless Steel Rat," and still have his fellow teammates be 100% sure that he was correct. Along with his trademark odd Vacca knowledge, he was responsible for introducing the team to the the card game Lunch Money. Currently residing in DC, Dave still attends practices when he can and is an editor for TRASH.
---
---
Maintained by David Hamilton
Comments, complaints can be sent to the author at dhamiltn@wam.umd.edu
Last updated August 21, 1999.