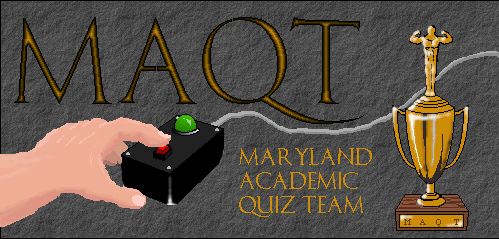 About the Maryland Academic Quiz Team
The Maryland Academic Quiz Team is an organization at College Park devoted to competing in and hosting academic trivia competitions. If you're not familiar with such competitions, imagine Jeopardy! with harder questions, more players, and the ability to buzz in and make Alex shut his damned hole in the middle of the question.

Though the team is willing to answer almost any kind of questions, from sports trivia to Trivial Pursuit, we specialize in a format called ACF -- Academic Competition Foundation. Started in 1990 by John Nam and Ramesh Kannappan of the MAQT and Carol Guthrie of Tennessee, ACF has become a standard for quiz bowl questions. Games consist of 20 "tossup" questions, answerable by either team. Upon answering a tossup correctly, the team that does so receives a 30-point multiple-part bonus question. The questions are academic and structured to give more difficult clues first and easy clues last, thus rewarding the team with the greater knowledge.

Unfortunately, ACF died a few years ago due to a number of reasons. A new ACF has been formed, and the MAQT is fully behind the effort. David Hamilton is the creator of the new ACF website, for which the MAQT is providing space.

A long time ago, the MAQT used to be affiliated with College Bowl, inc. CBI, or "The Company" as it is affectionately known, used to be the only game in town if you wanted to play in a national tournament against other good quiz bowl teams. But the exorbitant price of CBI, along with the low quality of their questions led the Maryland team to de-affiliate and ultimately to start ACF as a low-cost, high-quality alternative to the low-quality, high-cost College Bowl game.

A relative newcomer to the format wars is NAQT, which is a timed format which contains features reminiscent of both ACF and CBI, and probably best known for its inclusion of power tossups. A recent surge in interest in trash tournaments has led to the development of TRASH (Total Recall About Strange Happenings), to whose tournaments we sent several teams last year.

In addition to CBI and ACF, quiz teams at individual schools host "invitational" tournaments. The "invitational circuit" varies from an approximation to CBI (Georgetown, Vanderbilt, etc.) to ACF (Georgia Tech's and Virginia's tournaments, just to name a few).

Maryland's own invitational ACF-style tournament, the Terrapin Invitational, is one of the oldest in the nation. In Fall of 1999, it will be held for the thirteenth straight year.

So, you may be wondering, how good is Maryland at quiz bowl? The answer: a lot better than at football. Maryland is ranked number 2 in the nation. In the seven times that the ACF National tournament has been held, Maryland has taken second four times and third twice. Of the 10-14 invitational tournaments the team attends each year, it wins between 7-8. This year, Maryland placed third in ACF nationals and won 9 tournaments.

But enough chest-beating. If you want to join the team, we'd love to have you. One of our goals is to give everyone who wants to play the opportunity to compete at tournaments, and we often send 3 or more teams to tournaments around the country. All levels of knowledge are welcome, and it doesn't matter if you're a freshman or a grad student. The team is good not because of astute recruiting, but because players get better by playing. If you join the team, you can become a good player regardless of where you start out.
How can I join?
Come to one of our practices (see below), or contact Julie Singer at jesinger@wam.umd.edu or 301-314-5869.
Where and when are practices held?
Practices during the spring semester are on Monday and Thursday at 7:00 PM in 1117 Jimenez Hall. In addition, there is a practice for novices on Wednesday at the same time. If some other group is in 1117 Jimenez, look in nearby rooms for a lot of people and a buzzer system. Players from other schools are welcome to attend as long as they don't start showing up to every practice.
---
---
Maintained by David Hamilton
Comments, complaints can be sent to the author at dhamiltn@wam.umd.edu
Last updated March 18, 1999.